WAVGLUE 1.0
---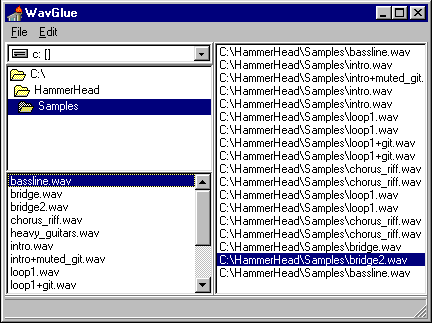 ---
This utility takes a list of .WAV files and "glues" them together into one big file. Simply select the folder containing the wave files and drag them into a list and save them all into a new .WAV file.

The program was originally written to glue together a series of drumkit samples to import into recycle and then dump to a sampler, but I found that it's very useful with HammerHead too. If HammerHead's 8 measures aren't enough for you, this app lets you easily glue different drum parts together into a whole song.

Of course, if you already have Cool Edit 96 or any other audio editor, this program might be superfluous as you can use the editor to "glue" the samples together. Still, if all you need to do with a bunch of samples is put them together, this program will do the job a lot easier and quicker than an editor.
---
- Download size: 121 kb
- Unzipped size: 241 kb
---