*) These files were used to
create TS-404/HH Combo:
[TS-404.hub] [TS-404.hh]




TS-404 v1.05
---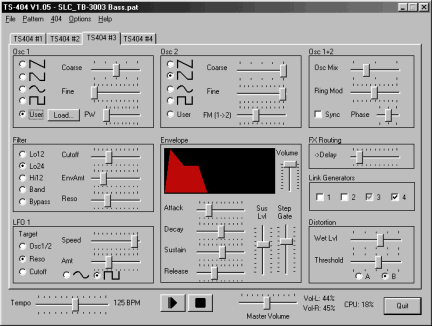 ---
"Virtual Analogue Synth"

Transistor Synth 404 is a virtual analogue, multitimbral synthesizer for Windows 95/98. You can use it to create fat basslines, melodies or just noise in true TB-303 (ReBirth) fashion.

FEATURES:
4 generators
2 oscillators per generator
Freely link generators (so you can easily build 8-oscillator-sounds!)
4 waveforms (saw, 303-saw, square, sine) + 1 user waveform per oscillator
Oscillator Mix, Oscillator Sync & Phase Adjust
Pulse Width
Filters: 12/24dB Lowpass, 12dB Highpass and Bandpass with variable Cutoff and Resonance
Ring Modulator
Frequency Modulation (FM)
LFO on Pitch, Resonance or Cutoff
ADSR + Step gate to cut notes
2 distortion types for each generator
1 delay unit
Step Sequencer with Shift up/down/left/right
Random/algorithmic pattern generator
This is a really nice piece of software. Although it's not directly related to HammerHead, the two programs complement each other great. It only has a few drawbacks, the most irritating is probably that you can't save realtime knob and slider movements and that you're limited to one pattern (16 ticks). The stream to disk option is also quite limited, it only saves one measure and can only save to RAW (a format HammerHead users should be familliar with). This can of course be worked around by using Windows' Sound Recorder (or any other suitable software) to record the sound "live".

This software is provided without any help file or manual, so you'll have to figure things out by yourself :-(

Version 2 of this software in underway. In addition to a lot of cool new features it will also have a new graphical user interface instead of this "Win95 standard" look. I have no idea if the new version will be free or not though.


---
REQUIREMENTS
You need DirectX to run this program (you probably have it already).
---
- Download size: 120 kb
- Unzipped size: 249 kb
---