Largest sample: 58 kb
Sound quality has been reduced
to minimize file size.




SIMSYNTH 1.3
---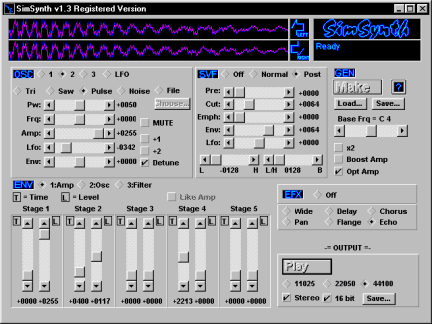 ---
"Subtractive Sound Synthesizer"

SimSynth is a very capable sound synthesizer, that lets you create a wide range of analogue sounds. The sounds you make can be saved to a .WAV file (or .RAW, which is great for us HammerHeads). SimSynth is a Windows 3.x program, but it runs just as well under Windows 98.

SimSynth gives you three oscillators to play with. These can be programmed like traditional analogue oscillators, or you can configure them to play a .WAV file. It also has an LFO, a filter and amplitude / oscillator / filter envelopes.

There are also a few simple stereo effects you can apply to your sound, like Pan, Delay, Chorus, Flange and Echo.

One of the advantages in using SimSynth is the high quality waves it produces. Bypassing the sampling process eliminates a great deal of noise and distortions, as well as optimizing the amplitude for the best possible signal to noise ratio. Another plus is the great documentation, and the complete guide to sound synthesis that comes with the program.

The only thing that bugs me a little about this software is that it is not real-time. Everytime you change some parameters, you have to regenerate the sound, which might take a few seconds. A simple sequencer wouldn't have hurt either, but both these features are present in SimSynth 2 ($35).


---
INSTALLATION
---
- Download size: 236 kb
- Unzipped size: 1.04 Mb
---