FW2
---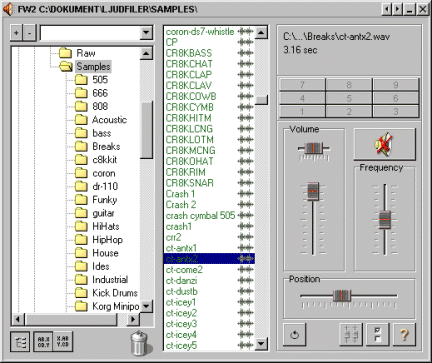 ---
"Quick & Useful Sample Browser"

FW2 (FastWav 2) is a sample browser that uses Microsoft Media Player to play audio files (wav, mid, mp3, au, aiff...). It can also use the free ModPlug plugin to play all its supported module formats (mod, xm, x3m...).
FW2 scans a selected directory (and optionally all its subdirectories) for audio files. When you select a file, playback starts. The file can be looped and the volume, pan and pitch/frequency can be easily adjusted (even though I'm not sure why -the changes can't be saved). FW2 supports drag & drop and you can bookmark up to 10 directories for quick access. All in all, a great app for anyone with an extensive sample library.


---
INSTALLATION
Requires Microsoft's Media Player 6 or better (the program will crash otherwise).
---
- Download size: 397 kb
- Installed size: 699 kb
---