Only dry sounds from the ER-0
was used in the demo song.




ER-0 1.4
---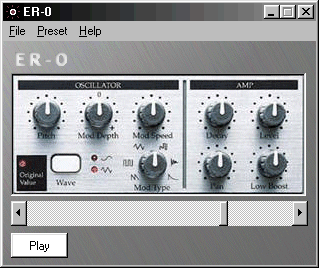 ---
"Intuitive Drum Synthesizer"

ER-0 is a software drum synthesizer, based on the Korg ER-1 drum box. How well it emulates the ER-1's sound engine is better left unsaid, but it is capable of producing some deep kick drums, snappy snares, hard claps, bells, toms and crisp hi-hats. All very analogue and old-school sounding.

Unlike other drum synths, like DrumSynth or Stomper, ER-0 has a very basic user interface. Select the parameter you want to change, and drag the slider to increase or decrease its value. This makes sound creation more intuitive than with the aforementioned programs, which forces you to take a more "scientific" approach to creating sounds. With ER-0, you just tweak the knobs (or, drag the slider) and let your ears guide you.

The controls are:
Pitch - adjusts the frequency of the sound from 1Hz to 12 kHz.
Wave Select - either sin or triangle wave forms can be selected.
Mod Depth - sets the amount of modulation to apply to the signal.
Mod Speed - sets the speed at which the modulator oscillates.
Mod Type - sets the type of modulation to apply, from basic LFO type modulations to random noise.
Decay - sets the length of time for the signal to decay.
Level - adjusts the overall level of the sound.
Low Boost - a low filter which increases the level of low frequency signals.
All in all, this is a very nice little machine, especially if you're into old-school techno, electro or industrial stuff. It also makes a perfect companion to HammerHead. Sounds can be saved as editable .ER0 files, or streamed to 44.1 kHz, 16 bit .WAVs. The program is very stable and bug free, and hasn't crashed once during the test period.


---
INSTALLATION
Unzip, then run the installation program.
---
- Download size: 1.60 Mb
- Unzipped size: ??? Mb
---