Largest sample: 62 kb




DRUMSYNTH 2
---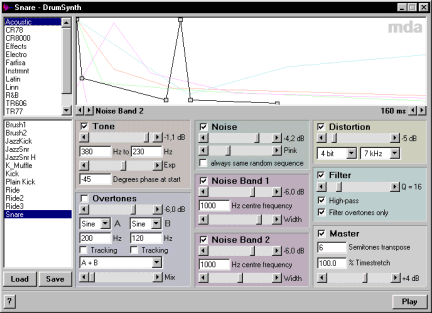 ---
"Additive Drum Synthesizer"

DrumSynth is a synthesizer for producing drum sounds. It can reproduce sounds from classic analogue drum machines with new clarity and programmability as it uses the same building blocks (oscillators, noise generators and filters), but also make entirely new drums, pitched sounds and sound effects!

DrumSynth is not an analogue synthesizer simulation (check out TS-404 if that's what you're looking for)! DrumSynth can't play it's sounds in real-time, isn't polyphonic, and has no LFOs or resonant filters.

What DrumSynth does have is a range of synthesis methods based on analogue electronics, with enough parameters to produce a wide range of sounds, all available for fast, convenient operation. DrumSynth also allows you to organise and audition your sounds, and store and distribute your sounds in very small .DS files.

DrumSynth is perfect for use with HammerHead's Userbank Creator or any other drum box that lets you import your own samples as you easily can save your sounds to .WAV (which then, of course, have to be converted to .RAW with for example Cool Edit 96).

123 pre-made drum sounds and effects are available when you download the program, conveniently sorted in different folders such as Acoustic, CR 8000, Techno and TR 808. The number of sounds that can be created is of course unlimited.


---
INSTALLATION
Make sure you Use Folder Names when unzipping to expand each kit into a subdirectory.
Requires MSVBVM50.DLL in your \WINDOWS\SYSTEM folder (you probably have it already).
---
- Download size: 168 kb
- Unzipped size: 352 kb
---