STEREO DRUM SET
This demostration set contains heavily processed but natural custom drum and percussion sounds.
(6.9 Mb Zip file)

Demonstration Drum Set

RRAMM DRRUMM 1.2
---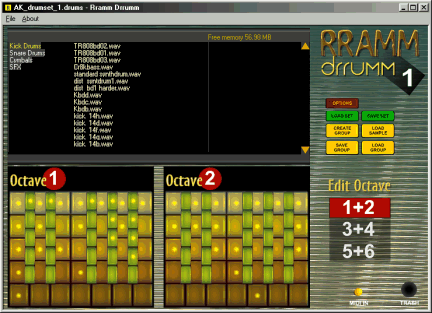 ---
"Virtual MIDI Drum Machine"

Rramm Drrumm is a dedicated tool for playing drum (and any other one-shot stereo samples) via MIDI input. It can be used as a drum machine with sequencers, all you have to do is to install some virtual MIDI port like HUBI's Loopback Device and you can use Rramm Drrumm as an ordinary MIDI device.

Rramm Drrumm has a 16-sample polyphony for each layer, and 5 velocity layers per note. Samples can be grouped to folders and positioned to keyboard using drag & drop. Samples are stored in RAM and played back through Microsoft DirectSound system in stereo, so a lot of RAM and DirectX 5 is required. Rramm Drumm has been tested under Windows 95 and 98, and under DirectX 5 and 6.


---
INSTALLATION / REQUIREMENTS
You need DirectX to run this program (you probably have it already).
HUBI's Loopback Device must be installed via the Control Panel.
---
- Download size: 709 kb
- Installed size: 2.29 Mb
---