MORON SOUND STUDIO 0.99.8r
---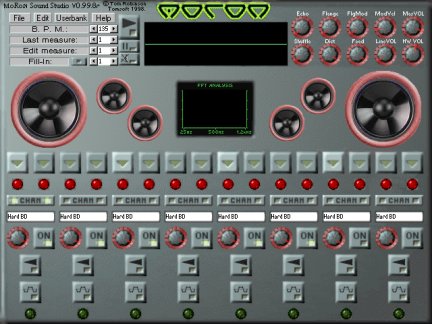 ---
"HammerHead for DOS"

Moron Sound Studio is a software drum machine for DOS (also runs under Windows) that is very similar to, and fully compatible with, HammerHead Rhythm Station. HammerHead patterns and userbanks can be loaded, edited and saved in Moron as well as Moron's own format. Moron Sound Studio also has a few additional features that HammerHead doesn't, like real-time echo and flange effects, a built-in dynamic userbank editor, a neat fill-in function and two extra channels (you can never get too many of those).

The biggest drawback of this software is the somewhat crude and hypersensitive controls. Small things like that a channel isn't automatically activated when you change the drum for that channel will drive anyone used to HammerHead nuts. Another thing is the stream to disk feature, wich is much more limited than HammerHead's. The saved .wav's don't seem to be quite as clean as HammerHead's either.

I couldn't get this thing to work in anything but full screen mode, and that's something you don't want when you have a 21" screen. In any case, if you're using Win 95 or 98 (couldn't make it work on NT), I definitely recommend that you run Moron in MS-DOS instead of a window.

This is, however, just a beta pre-release, and with a little luck (and the programmer's hard work) this may very well turn out to be the "HammerHead 2" everybody is waiting for. The author promises to include a tracker and a real-time analogue-synth sequencer in the future, which would make this software really interesting.

This beta version is freeware, but I beleive the final version will be shareware. It does not quite match HammerHead yet, but it's well worth downloading and playing around with for a while. If you for some reason are still running DOS or Windows 3.x, there's no question about it; you've got to have this software!


---
- Download: 621 kb
- Unzipped: 1.75 Mb
---